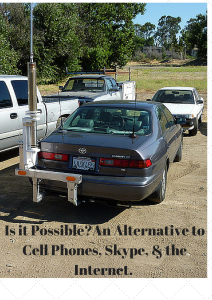 Sometimes the crazy people you meet make so much sense that you realize you were the crazy one all along.
While researching for a book series, I became interested in all the things that make spies and MacGuyver-type characters so awesome. It's the skills and problem solving, executed with a flare that is sock-rocking impressive.
On the way out from Lowes, getting supplies for a related hobby, I ended up chatting with a retired veteran.
His car was a few spots from mine, and when I spotted it, I saw a monstrosity sticking out the back of his trunk. It looked like the photo to the left.
He also had two more antennas than the car in this photo.
"Anyone who pays money every month for a cellphone is a sucker," he said.
"It's not ideal," I said, "But what's the alternative? Do we give up text and internet, and tell all our friends to buy CB radios? 'Breaker breaker one-nine, this is rubber ducky…'"
And he proceeded to tell me about HAM radio.
HAM RADIOS
I got the idea he knew something I didn't.
He holds up what looks like a tan, military-style blackberry. "I can talk, text, and video chat with anyone I want, and it's free."
It sounds cool, but you probably have to have your own cell towers, and the equipment probably costs tens of thousands, I thought.

And then he tells me the large 80-meter transmitter on his car cost him about $680 bucks to build and install.
He can call on his handheld HAM to an antenna, which bounces it to the 80-meter (that tall tower you see in the photo), transmitting it pretty much anywhere in the world he wants.
I was skeptical, but then I gave him my number and he called it!
This meant he could talk to anyone using his HAM. Rock on. He could order a ham pizza using his HAM if he wanted to!
So not only could he call anyone, and do so away from his car, he could also do it for less money than most people pay for a year of cell-phone service.
Except, instead of paying a cell-phone provider to use their systems, he can drive around with his own radio tower.
Radio Tower? You mean like radio stations and stuff?
Yeah. AM, FM, CB, and a host of other frequencies. If you're willing to look a bit like a nutcase, you can have a free radio that you can use to talk to anybody.
And Internet, too?
That may be the wave of the future.
There are organizations like the San Francisco hackerspace, Noisebridge, that are building an alternative network modeled after the Internet. This could provide high-speed connectivity for a fraction of the cost of traditional internet service.
Skype-style communications like video chat are already available to HAM operators. If your computer has a camera and it's on, HAM operators can face-to-face with you.
And systems like Packet Radio allow you to make long-distance wireless networks to transfer text and other messages between computers. While a bit on the slower side, this technology could speed up as our need for it increases.
When it pays to be a nut
So why would we need it?
I could think of a few reasons here with the FCC Net Neutrality rules…but instead I'll let U.S. News do it.
Right or left, soccer-mom or hippie, I think we can all agree on this:
I don't know about you, but oligopolies – industries ran by just a few companies – are something I'm against. Why? Because they can halt new technologies, treat customers badly, and even price fix if the existing anti-trust laws are not enforced.
In short, they don't have your best interest in mind.
Same with bills our elected officials aren't allowed to read. The U.S. News article has other reasons why it's a bad move, but the fact that the Congressmen can't read it is proof enough that it doesn't have people's best interests at heart.
That aside, let's say regulation blocks certain parts of the internet, creating a digital gulag. Where's the alternative? HAM can be that alternative – accessing necessary information during crucial times.
If superpowers like Russia can use 'white boxes' to block cell and internet signals, how are people going to communicate under such circumstances? What if extremists in the Middle East block signals while committing genocide against Christians and Atheists?
They can pray… if they're willing to do so.
But what they can also do is use HAM to get the word out if they can't use Twitter or Facebook.
But what about the most common reality we face in the western world today…natural disasters?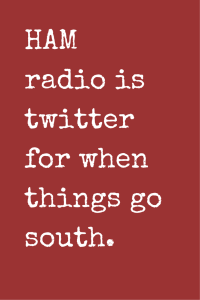 The man continued showing me his tech as he explained, "A hurricane swept through a town in North Texas a while back. Me and a few friends – about ten of us – we went up to the town while all land lines and cell towers were down. For about a month, we provided communication to citizens and their families – for free. And there's about 670,000 HAM operators in the US alone."
The Great News
The FCC rules regulating HAM radios have created a special culture. I don't know all the rules yet, but here are some:
1. HAM operators cannot use their equipment or HAM radio-related services to make money. (NOTE: I get the impression this rule is intentional, to protect the oligopolies while keeping the frequencies from getting too crowded)
2. They must be registered. (It takes more work to track down a HAM operator than the constant surveillance of cell users, but it is possible after enough signal watching)
3. No swearing. Keep in mind you are operating a radio, and a little kid could be listening to that frequency.
4. Morse code knowledge  – just kidding, that rule was dropped in 2007. But still, the veterans of HAM radio can speak another language, giving them a whole new level of competence.
This means we have a bunch of competent people, who are generous and not predatory, with cleaner language than me.
My hat goes off to these 600,000+ people. All potential heroes, just waiting in the wings in case disaster strikes. The next time we see a Hurricane Katrina, A giant snowstorm in the Northeast, an EMP attack, earthquake, or civil unrest, know that you or a loved one could one day be assisted by one of many such heroes. These heroes can help call out and let others know they're okay, get necessary supplies, and be a lifeline to their broken world.
Do You Want to Ham it up?
Learning about Ham-radios and their capabilities has filled a major blind spot in my quest to one day be self-sustaining. In the not-too-distant future I want to start accessing the conveniences of modern technology without sacrificing privacy, and this is a great way to do it.
And if you'd like to:
reduce your dependence on oligopolies,
save thousands of dollars
look like a nut-job
protect your privacy
Anger your Homeowners' Association
Stop future-Hitler from getting away with murder
and be a hero in the process…
Then maybe HAM radios are for you.
Find out more at many different websites, like the old-school HamUniverse, or check out the how-to guide from Wired.
Photo courtesy of Dave Parker on Flickr