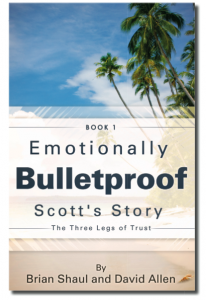 Thanks for visiting my page.
If you're looking to take advantage of the book promo – here is a link to Emotionally Bulletproof on Amazon. Kindle users get it free until Friday 14th. You heard me, free.
It's a fast read, with enough action to keep things going without detracting from it's purpose, to sharpen your skills in trust. Who knows what doors will open in your life just by being aware of what you want.
A better world begins with you, me, and all of us.
In the meantime…
Look around the site, read the posts if they strike your fancy, and try not to tease the T-Rex in my basement – he has self confidence issues.
Thanks to Francois Pointeau for his never ending search for great content, and for LaLove Robinson for her being a dynamic Co-Guest. Check out her poetry slam at WoWPS if you dig women who rhyme – at least some of the time.