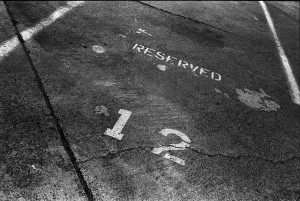 You probably remember the first time you prayed and something happened, even if it was really small.
Maybe, like one of my childhood friends, you prayed for pizza at dinnertime, and ta-da! There it is.
One friend of mine has a daughter who prayed that the automatic window on their SUV would work again, after weeks of malfunctioning. Ta-da, now she can order milkshakes at Sonic.
And it's hard not to roll your eyes at the myriad parking spot miracles out there. It's enough to fill a very boring book.
And on the eighth day, Adam sought a space large enough for his Prius. The sun approached its apex, and the cinnamon rolls he desired would soon be discarded, forever out of reach. So he closed his eyes to pray and – lo, and behold! – his front bumper knocked over a parked motorcycle, giving him enough clearance to set up camp.
This gave me a really skewed idea of God. Shouldn't you be praying to find a good spouse, raise good children, freedom of religion, and a fulfilling and prosperous career? How does finding a front row parking space outside of Whole Foods on a Sunday afternoon factor into God's priorities?
How May I Help You?
Not wanting to skew HIS priorities, I decided early on to 'help' God.
No more praying for small stuff. God is an important figure in the universe.
Like, if a boss I wanted to impress gave me a job to do and I couldn't find a pen, I wouldn't bother him about it. Instead, I'd do what I have to, go buy a pen, and get the job done. Because, as I believed it, God shouldn't be bothered with trivial things.
It would be better, I thought, to pray that I write a really great book, or built a business that gave me complete financial freedom. Or, if my spouse had a major disease one day, I'd save up my goodwill with God for a real big miracle at that moment.
If we're dealing with regular human beings, that is a great idea. Except we're not.
How Great is Your God?
I was trying to build what's called Emotional Equity.
As if every time I didn't bother him about something small, I preserved my capital with the Most High.
And every time I pursued my calling, or helped someone, He'd really pay attention when I prayed for the big stuff.
I was praying as if every prayer was subject to a holy audit.
You Cannot Bankrupt God.
Emotional equity is a great tool and a savvy way to live when building long-lasting relationships with people. It sucks as a foundation for your friendship with God.
What God is really looking for is a relationship with you. Any prayer, of any size, opens the communication channels, giving you face-time with the Creator. Small ones build your faith. Big ones honor God's capacity to bless you, and when fulfilled, they vindicate your faith.
In God's eyes, every time you talk with Him, it's a deposit!
So pray for the small, petty, inconsequential stuff. It's cool, He want's to hear from you. You'll also be less nervous about prayer when you go to Him for the big stuff, and won't hesitate to seek His counsel first – in all things.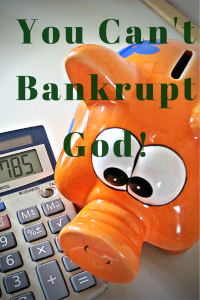 I was wrong. The kid praying for pizza was right. God is good.
Go for it. What are you going to do, wipe Him out?
Luke 18 (NIV) Then Jesus told his disciples a parable to show them that they should always pray and not give up. 2 He said: "In a certain town there was a judge who neither feared God nor cared what people thought. 3 And there was a widow in that town who kept coming to him with the plea, 'Grant me justice against my adversary.'
4 "For some time he refused. But finally he said to himself, 'Even though I don't fear God or care what people think, 5 yet because this widow keeps bothering me, I will see that she gets justice, so that she won't eventually come and attack me!'"
6 And the Lord said, "Listen to what the unjust judge says. 7 And will not God bring about justice for his chosen ones, who cry out to him day and night? Will he keep putting them off? 8 I tell you, he will see that they get justice, and quickly. However, when the Son of Man comes, will he find faith on the earth?"
 Photo Credit:
Reserved 12 by Steve Snodgrass (courtesy of Flickr.com)
Piggy Bank and Calculator by Images Money (courtesy of Flickr.com)